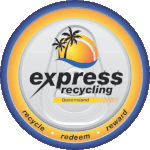 "Small Change. Big Difference"
SE QLD CONTAINER REFUND POINTS
Reduce the amount of recyclables into landfill and
turn your bottles, cans, plastic and cardboard containers into CA$H
Instant Cash
Undercover Facilities
Express Bag Drop
Commercial Services and Events
Fundraising Opportunities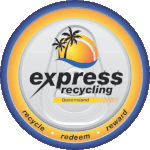 Our customers experience is our Number 1 priority and we take great pride in delivering personalised, friendly and efficient customer service, as each client plays a key role in the contribution to our mission of making a difference.
How It Works
It's as simple as 1, 2, 3…
Collect Eligible Containers
Take To Your Nearest Recycling Depot
Earn a Refund Or Donate To Charity
Express Recycling has locations up and down the SE Queensland Coast from Noosa to Currumbin and a depot in Hervey Bay.
FIND YOUR LOCAL EXPRESS RECYCLING DEPOT
Commercial Services & Events
Fundraising Opportunities
What containers can I recycle under the scheme?
Most aluminium, glass, plastic, steel and liquid paperboard beverage containers between 150ml and 3 litres.
The container must display the refund mark
Glass
Polyethylene terephthalate (PET)
High-density polyethylene (HDPE)
Aluminium
Liquid paper board
To be eligible the beverage container must:
Have contained a beverage product that is not excluded from the scheme. For example, cordials and plain milk are not included in the scheme so containers that have held these products are not eligible for a refund
Display the refund mark. This is so that the container refund point operator can see if the container is part of the scheme. Most containers will already have a refund mark for SA and NT and these containers are eligible under Containers for Change.
Some containers are made out of materials that cannot be recycled. These containers may not be approved (by the Queensland Government) as an eligible container as the scheme requires that when a refund is paid on a container that container must be recycled.
Generally excluded containers are those that are less than 150ml and greater than 3 litres.
Other excluded containers include:
Any plain milk containers
Any glass containers which have contained wine or pure spirits
Containers 1L or more which have contained flavoured milk, pure fruit or vegetable juice, cask wine or cask water
Concentrated/undiluted cordial or syrup containers
Sachets above 250ml which have contained wine
Registered health tonics
Excluded containers, such as plain milk bottles and glass wine bottles, can still be recycled through existing kerbside collection or drop-off services.
Start Your Recycling Journey With A Member Number
Sign-up for a Member Number; it's the easy way to receive your refund via an electronic funds transfer (EFT) into your bank account.
Other refund payment options are available (cash, voucher, donation) and do not require a member number. Please check with us for available payment options.
Click below to sign up for a Member Number via Containers For Change.
HEAD OFFICE
Express Recycling
266 Duffield Road
Clontarf QLD 4020
admin@expressrecycling.com.au